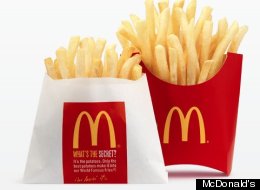 Lisa Abraham of the
Akron Beacon Journal
recently heard Chef Daniel Coudreaut, senior director of culinary innovation for McDonald's USA,
speak about the McDonald's menu
. Coudreaut discussed questions related to obesity, and children's diets, and then flat out said:
"I don't see anything on the menu that's unhealthy."
Sounds to me like Bill Cosby telling his wife on The Cosby Show, that feeding his kids cake for breakfast was OK because it contained all the essential food groups. I guess the real question should be; "Do you see anything on the menu that is healthy?"