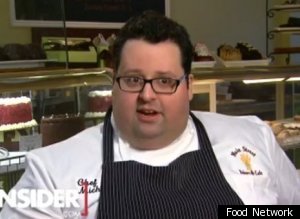 From Huffington Post: "Fat Chef"
"There's always a fine line between loving food and being addicted to it. "Fat Chef," a new Food Network six-episode show that premieres Thursday, January 26 at 10pm, explores chefs that have gone over that line. Each episode features two chefs working with a health consultant to attempt to defeat their abusive relationship with food. It sounds like heavy stuff -- it's not easy being unhealthily addicted to the one thing that also happens to be the central focus of your career.
In the preview clip from the first episode below, pastry chef Michael Mignano is a 36-year-old, morbidly obese (around 500 pounds) pastry chef from Long Island who knows that he needs to change his life. His father died at age 15, which Mignano admitted really "sucked." Mignano, who has two young sons, doesn't want the same thing to happen to him and his family."
________________________________________________________________________________
Because we do not have cable we would like to hear from readers that are able to preview this show.
This is interesting because here is a guy who cooks for a living realizing that he needs to change the way he eats. He wants to live long enough to see his kids grow and has the ability to explore the issue on national television.
If you are able to tune in and want to share your thoughts, Health Coach Resource we will be glad to share your comments with other readers.